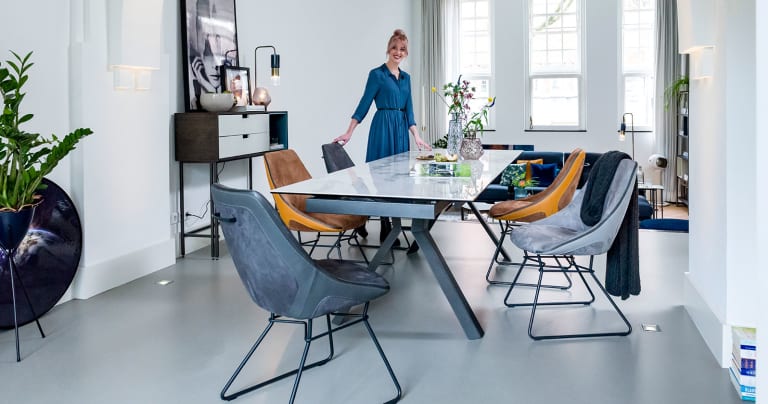 Glasgow
extendable dining table 180 (+ 2x40) x 90 cm
£1,999.-
View product
Glasgow
sideboard high 113,5 cm - 2-drawers + 1-box
£749.-
View product
Bright & stylish
Modern, sleek design
In a minimalist interior, unique designs will always stand out – minimalism is all about quality rather than quantity. That was our philosophy when we developed the GLASGOW collection. Each piece in this minimalist collection is clean and elegant, playing on subtle contrasts, straight lines and stylish elevated designs.
Creative ceramics
Striking a balance between wood and ceramics
This collection's sleek style is achieved by the contrast between dark wood and light, glossy panels. It's all about clean, elegant lines – as emphasised by the metal details on the exterior of each piece. Do you like adding your own original touch to your furniture? Fill the bookcase with separate storage boxes as the fancy takes you. They are available in two different colours. The table with its marble-look top blends perfectly with the minimalist feel of the units in the collection. The use of pale ceramics adds a luxurious, classy look, creating a subtle contrast with the dark metal base.

Clean contrasts
Minimalism: a stylish, simple interior
Minimalist interiors are statements of elegant simplicity. White, black and anthracite grey tend to predominate, although minimalist does not necessarily mean monochrome. To liven up the overall effect, a few splashes of colour will add a hint of warmth and an original vibe, avoiding an overly cold feel. Opt for a muted colour palette. Combining several natural shades can create a sophisticated look and a wonderfully serene ambience. Always stick with hues from the same colour family for a relaxing, harmonious environment. You can also experiment with different texture combinations or incorporate an original element such as an elegant table with an imitation marble top for an instant touch of class. A table like this speaks for itself – no need for any extra decorative touches to set it off. Keep any accessories to the strict minimum; carefully select just a few feature items to display.